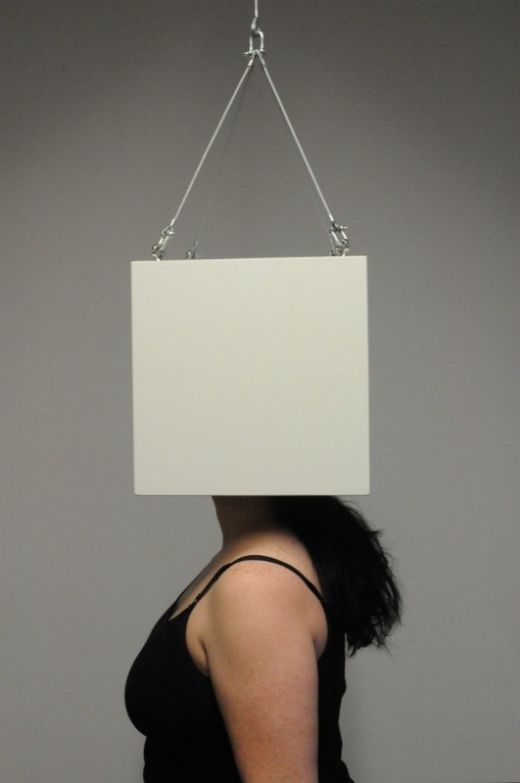 SINEAD O'DONNELL
Headspace: White Cube is a performance sculpture that segregates the artist in the "white cube" environment that has come to epitomise the contemporary art world. With her head literally ensconced in a small, white cube suspended from the ceiling, O'Donnell's work mirrors the segregation between viewer and gallery. The box also reflects the artist's frustration at being categorised, and provides an inside space of rest where it is hard to even imagine the outside.
Sinéad O'Donnell
Headspace: White cube
Daily Performances at Golden Thread Gallery | E01
Performances: Length 15min
Thurs: 4:30PM, 6:30PM, 8:30PM
Fri-Sun: Sporadic
P01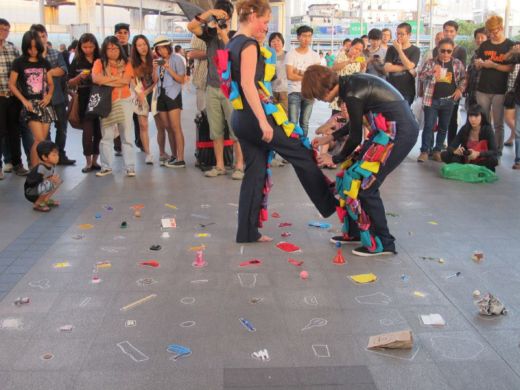 TONYA MCMULLAN
Using clothing, actions, stories and the audience as her materials, Tonya McMullan will present a series of performances that explore the connections between people and things. Questioning a consumer society and the role of the individual within the wider community, McMullan's performances force us to explore our own commodity values.
Tonya McMullan
Daily Performances at Golden Thread Gallery | E01
Performances: Length 10min
Thurs: 3:30PM, 5:30PM, 7:30PM
Fri & Sat: 4PM, 5PM, 6PM, 7PM
Sun: 12PM, 1PM, 2PM
P01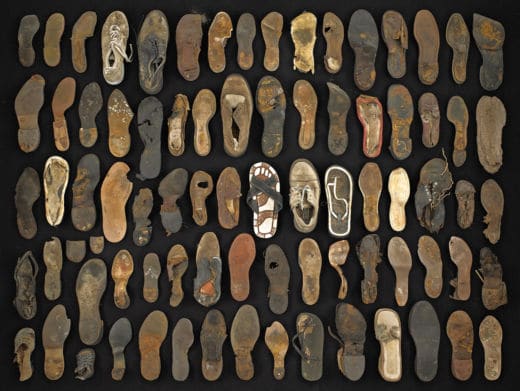 CHASHAMA
Chashama nurtures artists by transforming unused property into affordable live, work, and presentation space. chashama partners with artists, performers, youth and community organizations in New York City to provide opportunities for creativity to flourish. Their programs strengthen both the communities that benefit from the influx of new ideas, and the artists whose work they support.
Benefiting chashama, SCOPE will welcome Platinum VIPs and Gala ticket holders to an exclusive Platinum Gala Preview on Thursday, March 6, 3-6PM.
[Barry Rosenthal, Soles, 2012. 27×36. C-Print.]
chashama
Official Charity Partner
chashama | K01
P02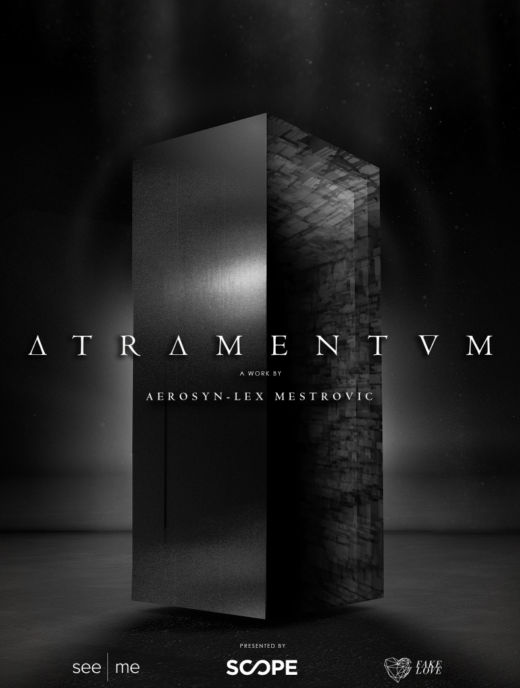 AEROSYN-LEX MESTROVIC
SCOPE Art Show is delighted to introduce the 4th Annual See.Me: Year In Review competition: an international, all-medium-encompassing open call for art that presents one visionary artist with a $10,000 Grand Prize Award and an exclusive Feature Program at SCOPE New York.
Winner of the 2014 See.Me Year In Review, Aerosyn-Lex Mestrovic presents ATRAMENTUM, a multimedia installation that transports the viewer from the industrial show space at Skylight at Moynihan Station, to a world of elegant and fluid symbology, as told through digital medium. Mestrovic's ATRAMENTUM—Latin for black liquid or substance, a word typically referring to ink—stirs narratives of duality and apparitions with digital presentation of ink-based works.
With a background rooted in design and calligraphy, Mestrovic has established a visual language of ethereal ink washes and calligraphic brush strokes that re-contextualizes an ancient art form. Coupling this monograph with the innovative technical and creative expertise of the renowned Fake Love agency, the installation pushes the audience through an infinite expanse into an infinite void.
Aerosyn-Lex Mestrovic
ATRAMENTUM
See.Me Year In Review
Location | L07
P03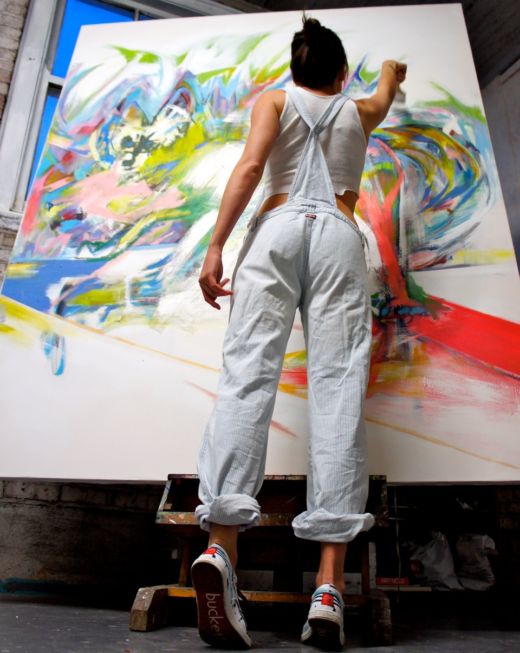 BUCKETFEET
The inaugural BucketFeet x SCOPE #MadeToStandOut Challenge—wherein 43 artists compete for a chance to become a BucketFeet shoe designer and SCOPE Miami exhibitor—comes to a head at SCOPE New York 2014. Earlier this year, each participating artists received a blank pair of shoes upon which they created their unique designs. Now, after two rounds of online voting, the top three finalists' shoes will stand on display at SCOPE New York for in-person judging.
SCOPE New York 2014 attendees will have the unique opportunity to help select the winner of the #MadeToStandOut contest during 3 days of in-person voting at the art show. Combining art, fashion, and an unrelenting thirst for exploration, #MadeToStandOut celebrates the diversity of artists' perspectives, allowing audiences to see what happens when each participant is confined to the same white canvas. The winning artist's design will be announced on the final day of SCOPE New York. He or she will receive a BucketFeet shoe contract and a special showcase at SCOPE Miami Beach 2014.
Designed by painters, graffiti writers, and illustrators from all over the world, BucketFeet shoes are walking works of art. The brand has collaborated with 65 emerging artists in 19 countries, effectively producing a fleet of sneakers as diverse as the artists who designed them. All artists receive royalties for each shoe sold and a global platform to showcase their work.
BucketFeet
#MadeToStandOut
Location | J05
P04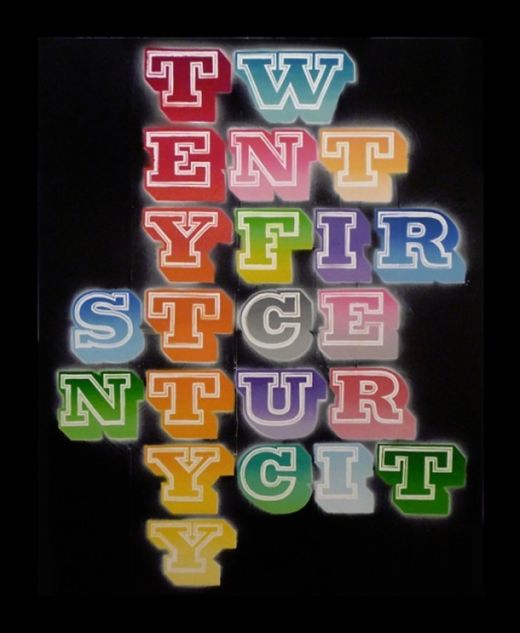 LORI ZIMMER AND MONIKER PROJECTS
Lori Zimmer and Moniker Projects present "We're Speaking the Same Language?" a survey of artists from the UK vs US that reference the traditions and similarities between the cultures and artists of each country while drumming up a little friendly rivalry between London and New York. Booth E19 will feature work by Beau Stanton, Ben Eine, David Shillinglaw, Greg Lamarche, Pam Glew and Ron English and special performances by New York's living work of art, Muffinhead, and London's 'typewriter artist' Keira Rathbone. Playing off the traditions of British high tea and the American coffee break, 1882Ltd will debut a special set of mugs designed by featured artists David Shillinglaw and Beau Stanton at the booth.
Image: Ben Eine, 21st Century City
Lori Zimmer and Moniker Projects
We're Speaking the Same Language?
Location | E19
P05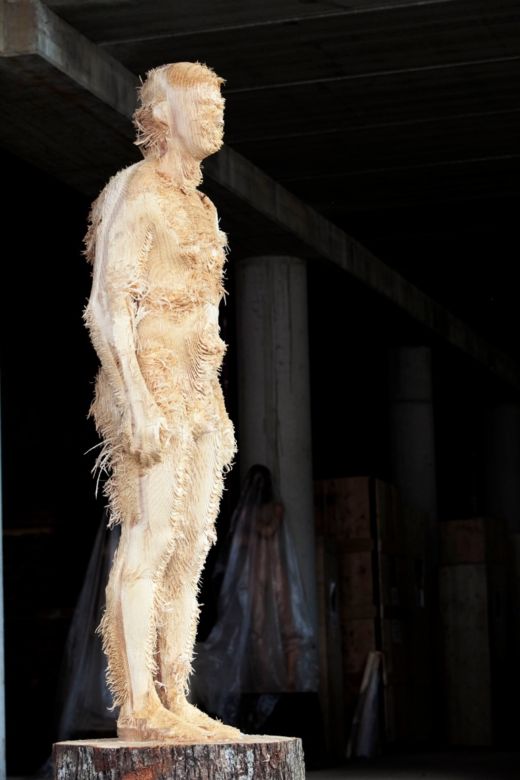 ARON DEMETZ
Long fascinated with the forms of the human figure, renowned Italian artist, Aron Demetz, will present continued works in his wood sculpture series. Using various techniques such as charring, erosion, and carving, these wood sculptures stress both the harmony and conflict between man and nature.
Aron Demetz
Robot
Galleria Ghetta | J01
P06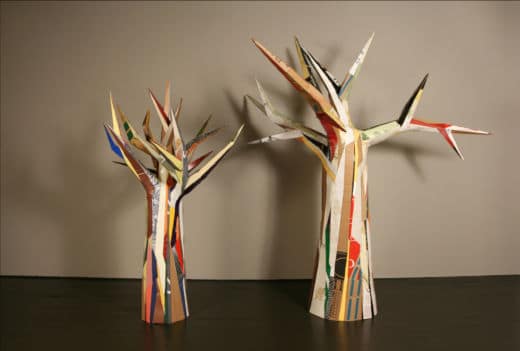 JOAN BACKES
Cardboard Trees, presented by Yellow Peril Gallery, is a sculptural installation from artist Joan Backes. With many works that carefully examine the tree as a material and a concept, Backes' pieces are often laden with the theorem of process and cycle. Composing the trees out of cardboard materials collected from around the world, Cardboard Trees attempts to create conversation surrounding the loss of tangibility of the industrial process in material consumption in the international commerce of a globalized landscape.
Joan Backes
Cardboard Trees
Yellow Peril Gallery | L09
P07