The Dean Collection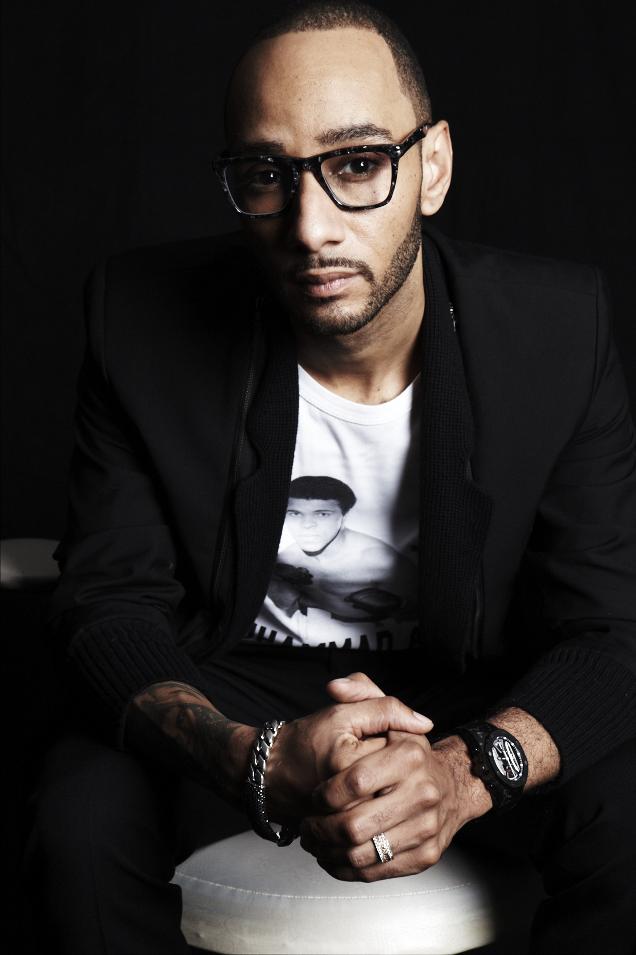 Grammy Award-Winning music artist and producer, Kasseem "Swizz Beatz" Dean, will for the first-time curate a selection of artists for exhibition at SCOPE Miami Beach 2014.
An avid contemporary collector and a discerning curator, Swizz's travels have taken him through artist studios all over the globe, in an endless series of adventures and discoveries. Swizz is a champion of young artists, building relationships that extend beyond the mere collecting of work. The first in a series of collaborations with SCOPE that offers a glimpse into "The Dean Collection".
Thalassa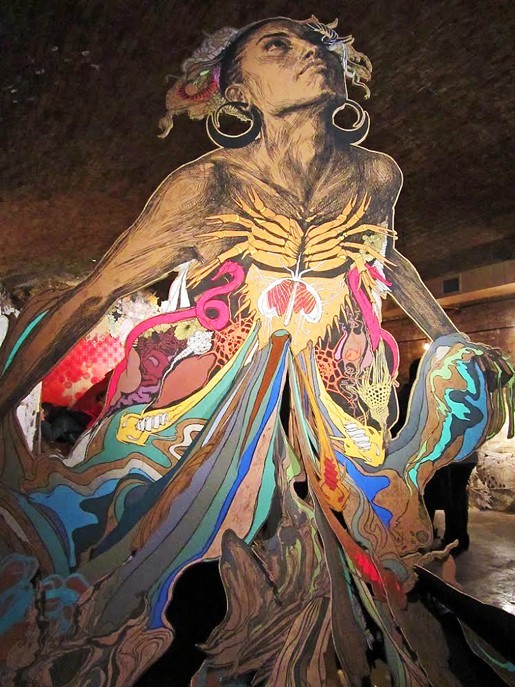 Initially inspired by the Gulf oil spill tragedy in New Orleans, Swoon's monumental installation invokes the Greek origin of Thalassa, as a primordial incarnation of the sea. Said to have given birth to all tribes of fish in the sea, Thalassa speaks directly to SCOPE's beach location and is an allegorical work for Swoon, whose hallmark is the exploration of humankind's relationship with our constructed environment.
Presented by The Dean Collection
JUXTAPOZ PRESENTS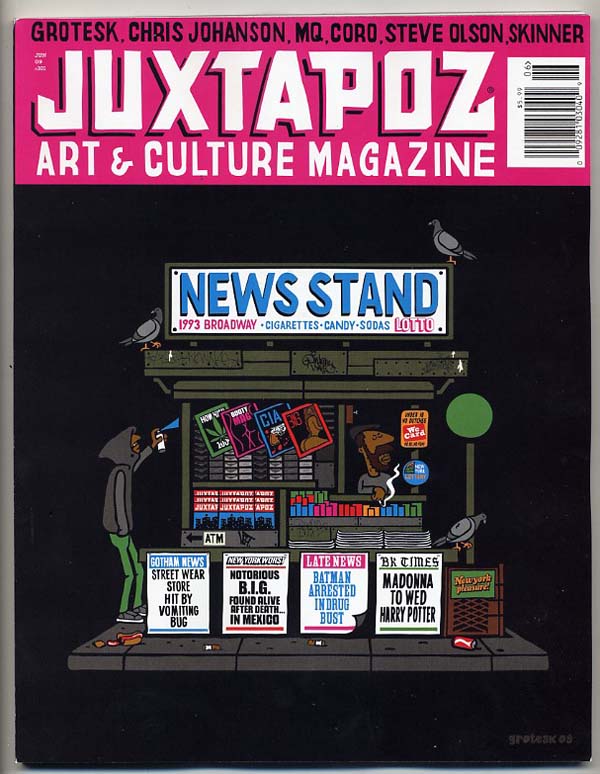 Celebrating artwork that bends, blends and transcends genre, Juxtapoz Magazine will curate a selection of SCOPE galleries as a highlight of Feature Programming. Juxtapoz Presents galleries embody the New Contemporary that is SCOPE's hallmark and add a singular dynamism to the Miami Beach 2014 show.
Juxtapoz has invited Kimou "Grotesk" Meyer to design and create an interactive installation entitled the "Juxtapoz Newsstand." Inspired by classic newsstands of Brooklyn, New York, Juxtapoz Newsstand is based on an iconic cover of Juxtapoz Magazine designed by Grotesk in 2009, an illustration that was recently shown in conjunction with Juxtapoz's special projects during their 20th Anniversary in 2014. Juxtapoz Newsstand will feature special artist-made goods, magazines, as well as the release of their newest book title, Juxtapoz Hyperrealism.
Juxtapoz will also release a special edition SCOPE newspaper featuring coverage of the Juxtapoz Presents Feature Programming at the Miami Beach 2014 show.
FEATURE Korea
In collaboration with the Galleries Association of Korea and sponsored by the Korea Ministry of Culture, Sports and Tourism, SCOPE Miami Beach 2014 is honored to present Focus | Korea.  This curated section offers a glimpse at the current art trends in Korea and shines new light on the country's contemporary cultural practice. Fourteen Korean galleries will present artists from one of the leading centers of Asian contemporary art with the goal to promote a cultural exchange between Miami and Korea.
Participating galleries include: Art Park Gallery,Artside Gallery,Baiksong Gallery, Bon Gallery, CHUNG Art Gallery, Chung Jark Gallery,Gallery Bhak,Gallery Godo, Gallery Shilla,Gana Art, Keumsan Gallery,Paik Hae Young Gallery, Pyo Gallery, Wellside Gallery
BREEDER Program
Long-established as the original incubator for emerging work, SCOPE's Breeder Program celebrates its 14th year of introducing new galleries to the contemporary market. A remarkable opportunity for exposure, Breeder Program alumni include: Peres Projects, John Connelly Presents, Galeria Enrique Guerrero, Daniel Reich Gallery, Bischoff/Weiss, INVISIBLE-EXPORTS, SEVENTEEN, ROKEBY, Taxter Spengemann, Magical Artroom and Spinello Projects, among other notable galleries.
Artisan Series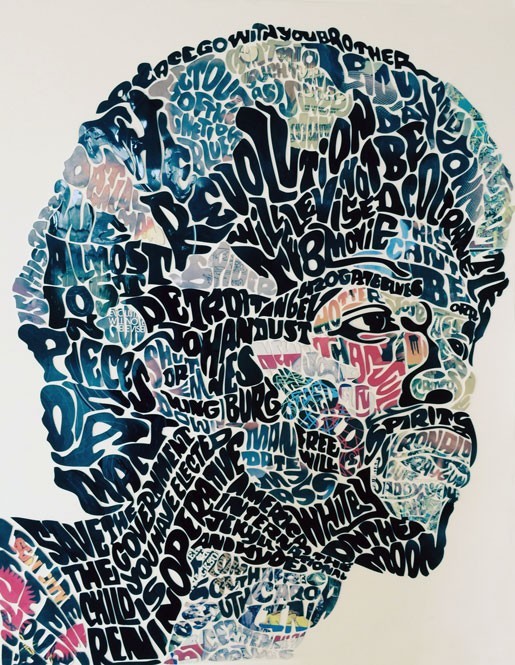 BOMBAY SAPPHIRE Gin and Russell and Danny Simmons' Rush Philanthropic Arts Foundation continue to partner together to showcase emerging artists. During Artisan Series, a select group of artists will be chosen from online submissions and local art gallery events for a chance to exhibit their work at the Grand Finale event at the SCOPE MIAMI BEACH Art Show. The creators of the top three pieces from the Grand Finale will participate in the BOMBAY SAPPHIRE Artisan Series Mural project in each of their hometowns, and the Grand Finale Winner will receive a solo show at SCOPE New York in March 2015.
FIAT Driven By Art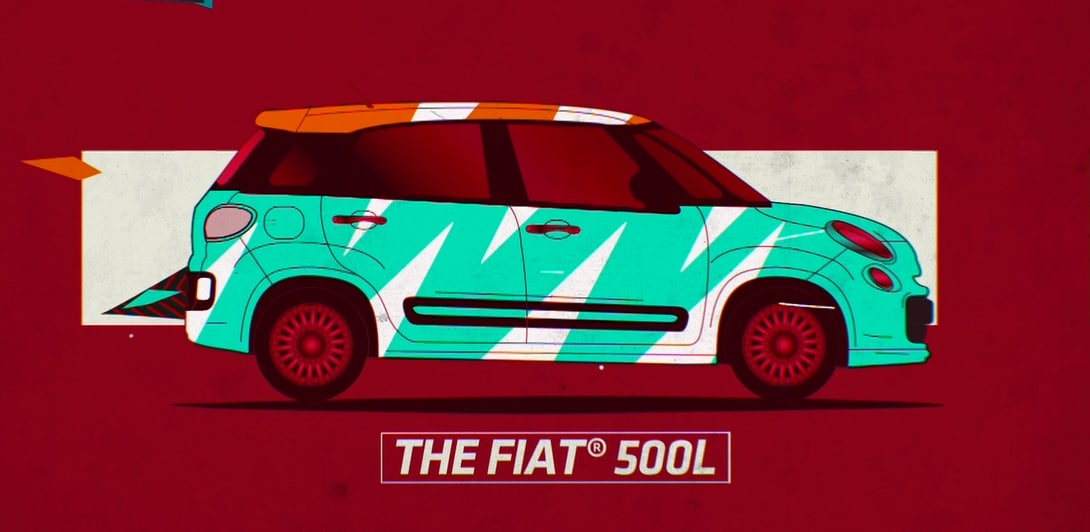 VH1 and SCOPE have teamed up with FIAT® to provide one aspiring artist the opportunity of a lifetime. Through the Driven By Art contest, artists from across the country submitted their best work of art for the chance to be featured in an exhibit at SCOPE Miami Beach. The winning artwork from Beau Stanton has also been wrapped on a FIAT® 500L that can be found cruising the streets of Miami Beach all week long.
Heineken House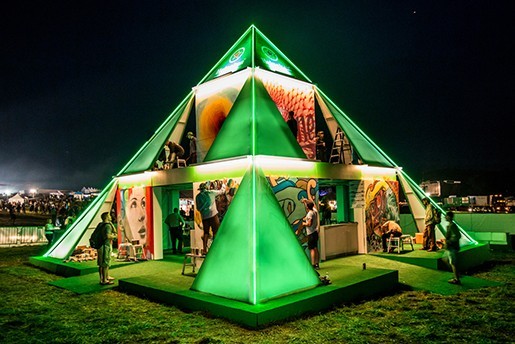 The Heineken House is a multi-sensory experience, featuring a Live Art Pyramid as the core. Standing over 35ft tall, the pyramid features 12 massive live art walls to be hand-painted live during SCOPE Miami Beach. The interior features a covered bar serving ice cold Heineken, while the exterior provides seating for patrons to witness the transformation of this multifunctional installation.
Creativity Squared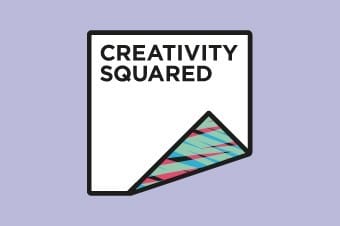 SCOPE has teamed up with online print and design company, MOO to search for emerging creative talent to exhibit at SCOPE Miami Beach.
The theme is Creativity Squared – which means you can turn any medium into the perfect Instagram. So think outside the box… but inside a square!
Red Bull Curates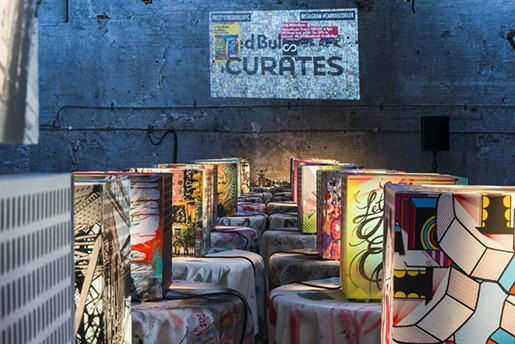 Red Bull Curates: The Canvas Cooler Project pairs up-and-coming artists with local venue owners in major US cities to create custom and functional pieces of art. Hand-picked artists are given the challenge of transforming a blank canvas-wrapped Red Bull cooler into an inspired work of art. The finished pieces are unveiled to the public in a one-night only local exhibition, where gallery patrons and a panel of judges vote for their favorite pieces, awarding two artists in each city an invitation to exhibit at SCOPE Miami Beach 2014.
Miami's Independent Thinkers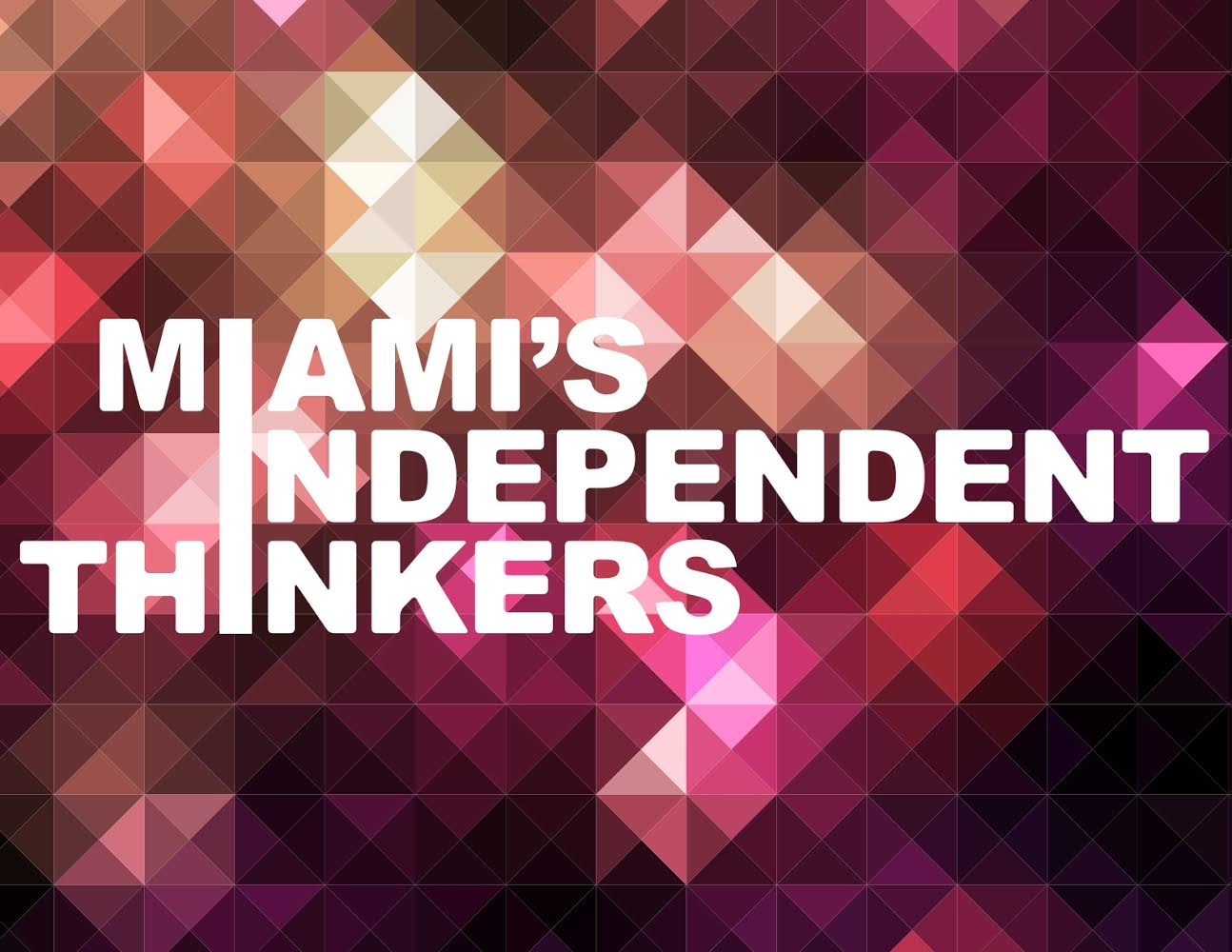 SCOPE has teamed up with Miami's Independent Thinkers to search for local talent to exhibit at this year's SCOPE Miami Beach. Miami's Independent Thinkers is an organization dedicated to the unity, development and promotion of Miami's flourishing art community. Our assemblage embraces established, emerging and young artists, visionaries and intellectuals. Artwork will be selected by a Jury Panel. Artists will be notified no later than November 26th, 2014.
For more information and to submit visit Miami's Independent Thinkers website:
miamithinkers.com/artist-submissions.html
Destination Unknown

Encapsulated together beneath the city, Hicks' anodized aluminum figures peer out into the unknown darkness of the underbelly of the metropolis, framed within the windows of a subway train. Logan Hicks is a New York based artist best known for his signature style of creating photorealistic imagery using layer upon layer of stencils. Hicks has exhibited worldwide in galleries, museums and on the streets.
Stencil on Anodized Aluminum
Logan Hicks, Destination Unknown
Presented by Agent Lori Zimmer