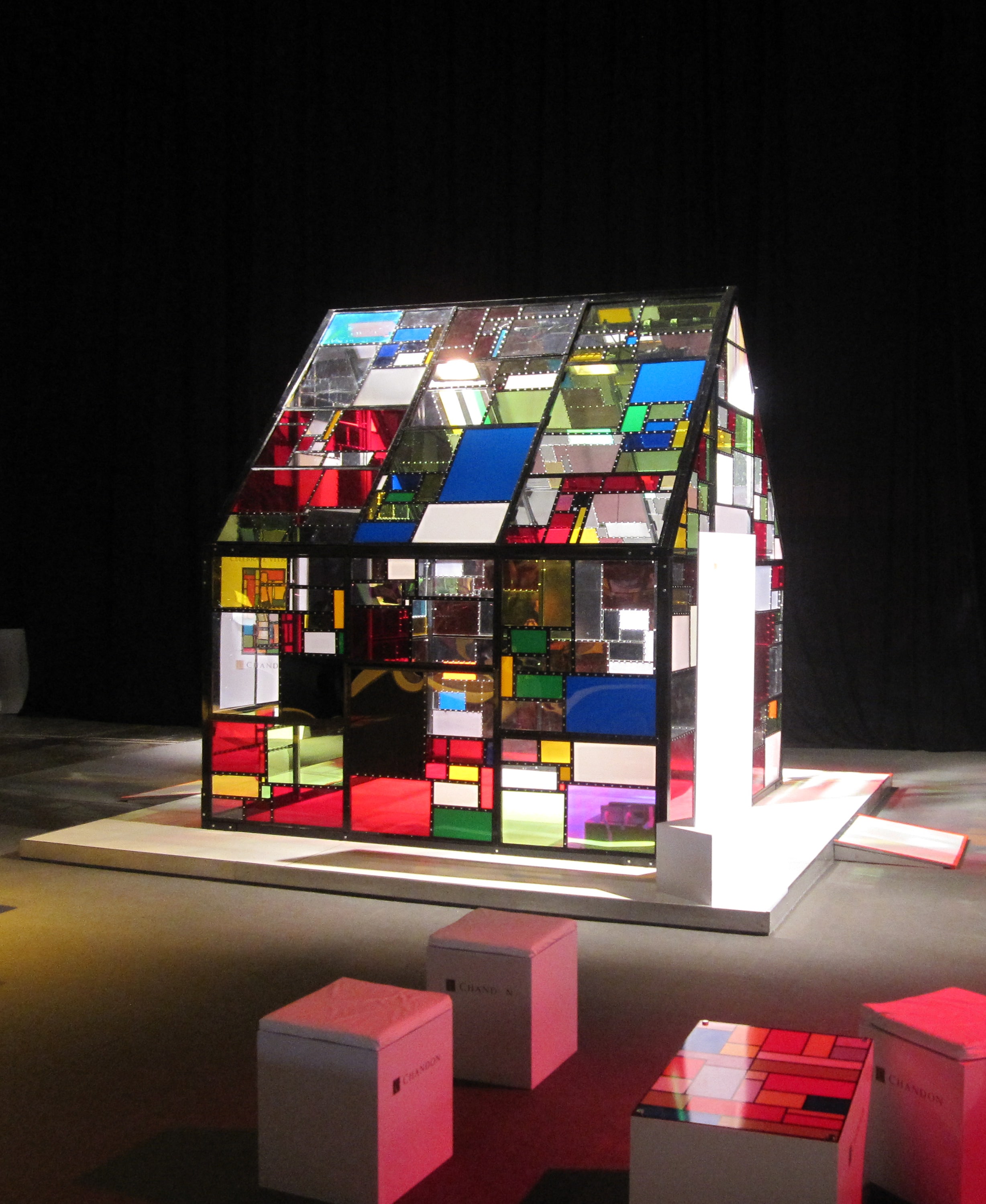 Tom Fruin
Maxikiosco is the 2nd piece in Fruin's celebrated ICON series. Composed from hundreds of plexi offcuts, this work celebrates the vibrancy of the corner stores of Argentina. Like New York's Watertower and Los Angeles' Billboard, these works transform signature architectural shapes into kaleidoscopes of color that project a cities identity to the viewer. The sculpture will be a beacon of light illuminated by the sun during the day and computer controlled halogens by night.
Tom Fruin
Maxikiosco
Steel, colored plastic, rivets, paint, lights
Curator: Natalie Kates
P05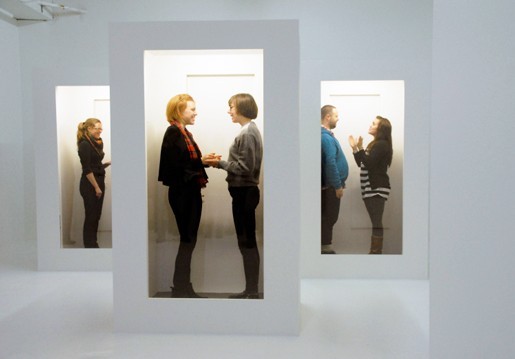 Einat Amir
Einat Amir's performance Enough About You is inspired by how our possibilities to socialize have been simplified and altered dramatically due to the numerous meeting possibilities offered by contemporary media. We can read stranger's diaries and view their family albums long before we have closer contact. We have opportunity to form an opinion in advance, to accept or reject before actually meeting. This work creates a monitored lab where one can observe "authentic" encounters between two strangers who are controlled and guided by an experimental conversation structure created specifically for this piece. The observer also participates, and is monitored and controlled.
Einat Amir Enough About You
Installation
Curator: TRIAD + Lillith Performance Studio + The SCOPE Foundation
P06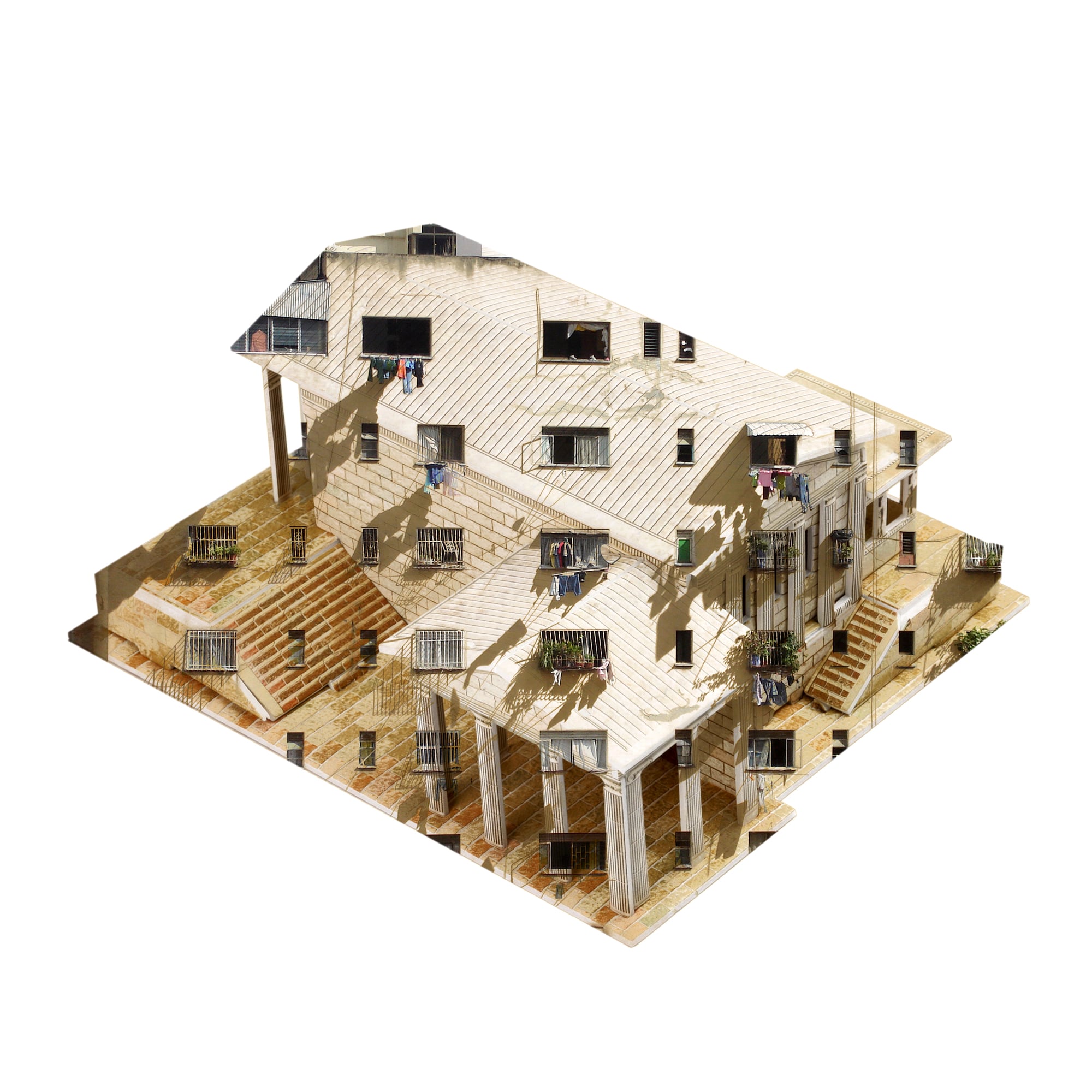 CIFO | Cisneros Fontanals Art Foundation
The Cisneros Fontanals Art Foundation booth at SCOPE will feature a group exhibition of artists that have been nominated for a CIFO Grant by the foundation's Honorary Advisory Committee of internationally recognized curators, artists and art professionals. A fundraising initiative that will benefit both artists and CIFO's Endowment Fund, this exhibition is designed to garner more exposure for these contemporary artists from Latin America, while also raising funds to further the mission of the foundation. All of the works included in the exhibition have been produced exclusively by CIFO.
The Cisneros Fontanals Art Foundation is dedicated to supporting and promoting contemporary artists from Latin America. CIFO fosters cultural understanding and educational exchange through three primary initiatives: a Grants and Commissions Program for emerging and mid-career visual artists from Latin America; an exhibitions program showcasing work by Latin American artists and international contemporary art from the Ella Fontanals-Cisneros Collection at the CIFO Art Space; and foundation-initiated support for other arts and culture projects.
For more information visit www.cifo.org!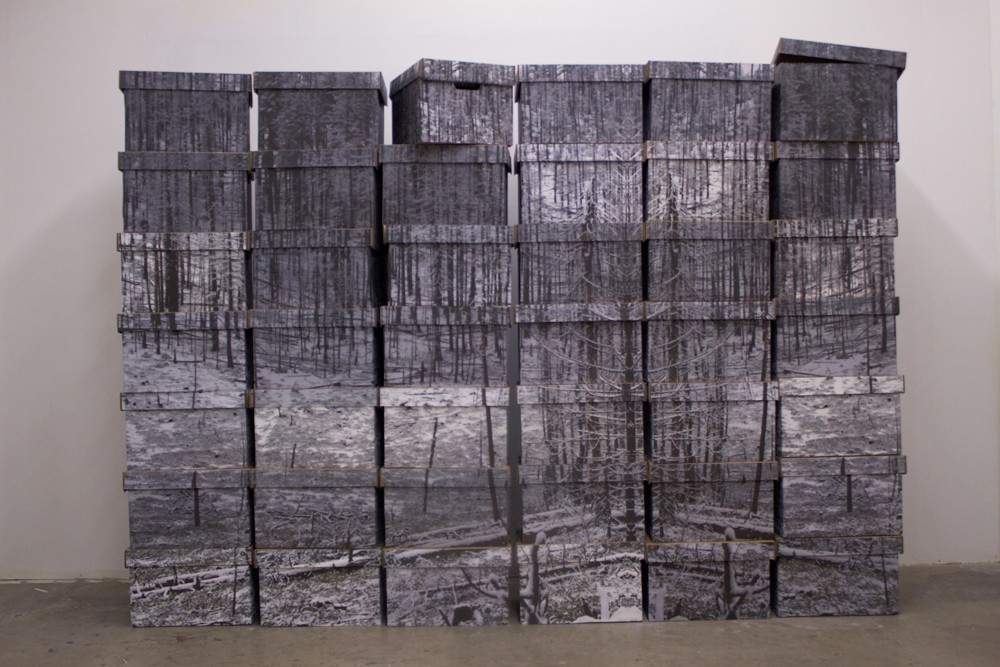 Jason Urban
Evoking the repose of nature as well as the frenetic energy of an endless RSS feed, Jason Urban's Forest Fire, Forest File is composed of images that are objects and objects that are images. Using mundane, repetitive objects such as cardboard file boxes, Urban employs printmaking techniques to create physical, tactile "screensavers" that explore the disparate relationship of analog to digital, real to virtual.
Jason Urban
Forest Fire, Forest File (Winter), 2013
Curator: Natalie Kates
P02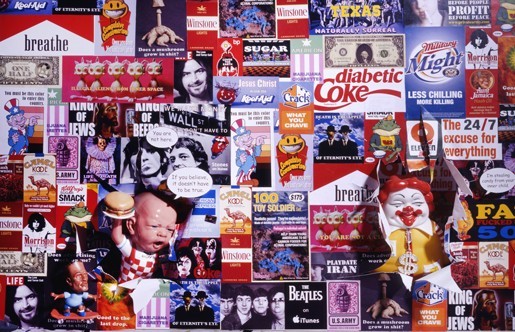 Ron English
Ron English brings his unique brand of "subvertising" to SCOPE Miami Beach with an installation exploring the many layers of advertising as wish fulfillment and thought control. Using his signature technique of stretching truth and taste just beyond acceptable limits, English forces us to confront the loaded impact of our littered visual landscape.
Ron English
Subvertising
Hand-screened posters, installation variable
Curator: Lori Zimmer
P08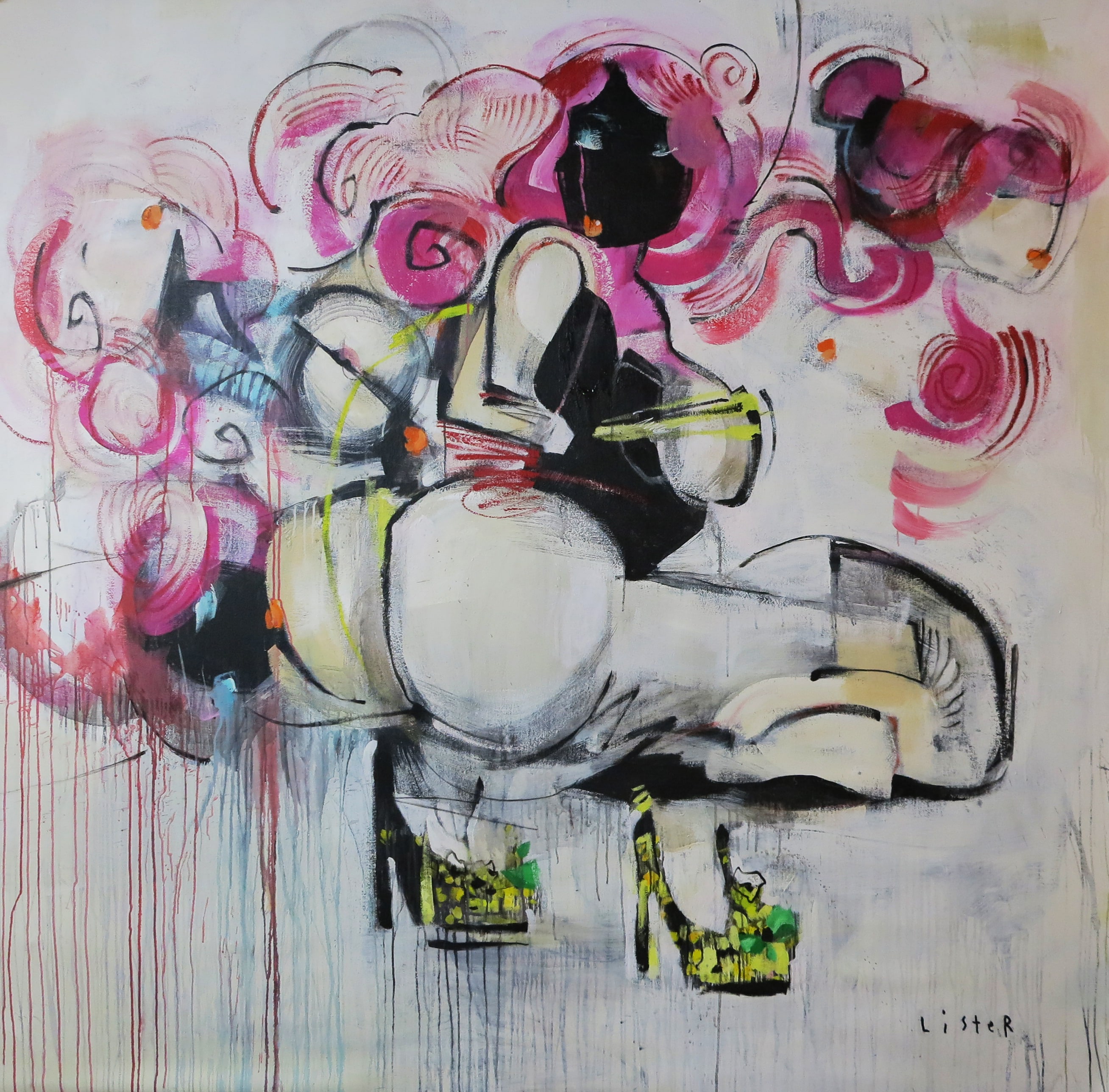 Anthony Lister
Painting prostitutes and strippers with the same energy, dignity and respect as he paints superheros and ballerinas, Anthony Lister's work challenges the viewer to consider what it means to judge another human being based on the context of their environment. Drawing attention to the similarities between high brow and low brow, graffiti and fine art, rich and poor, Lister illustrates that a dance it's just a dance, whether you're naked or not.
ANTHONY LISTER
Leval as a Leval
Courtesy of Robert Fontaine Gallery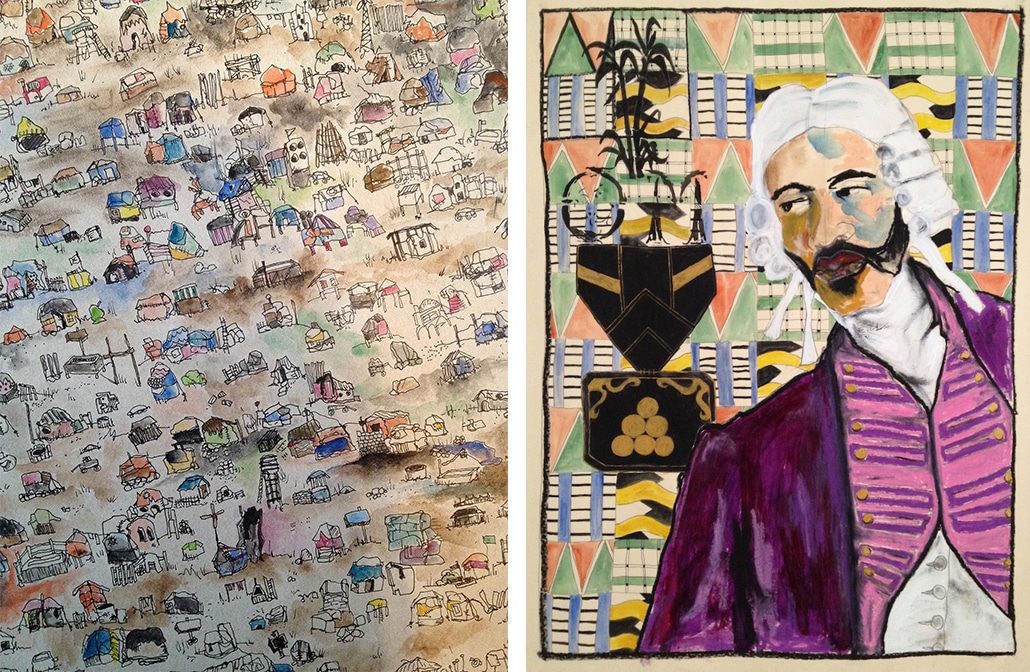 Nyugen Smith
Composed of sculpture, political propaganda and historic artifacts, Nyugen Smith's site specific installation is a fictional museum documenting the colonization of Africa and the West Indies. As told through several bodies of work that span the artist's career, these salvaged boats, healing elixirs, homemade maps and books, all contribute to the historical contextualization of an imaginary location, where real events have taken place.
Nyugen Smith
Once Upon a Time Down There
Mixed media, site-specific installation
Curator: Lori Zimmer
P01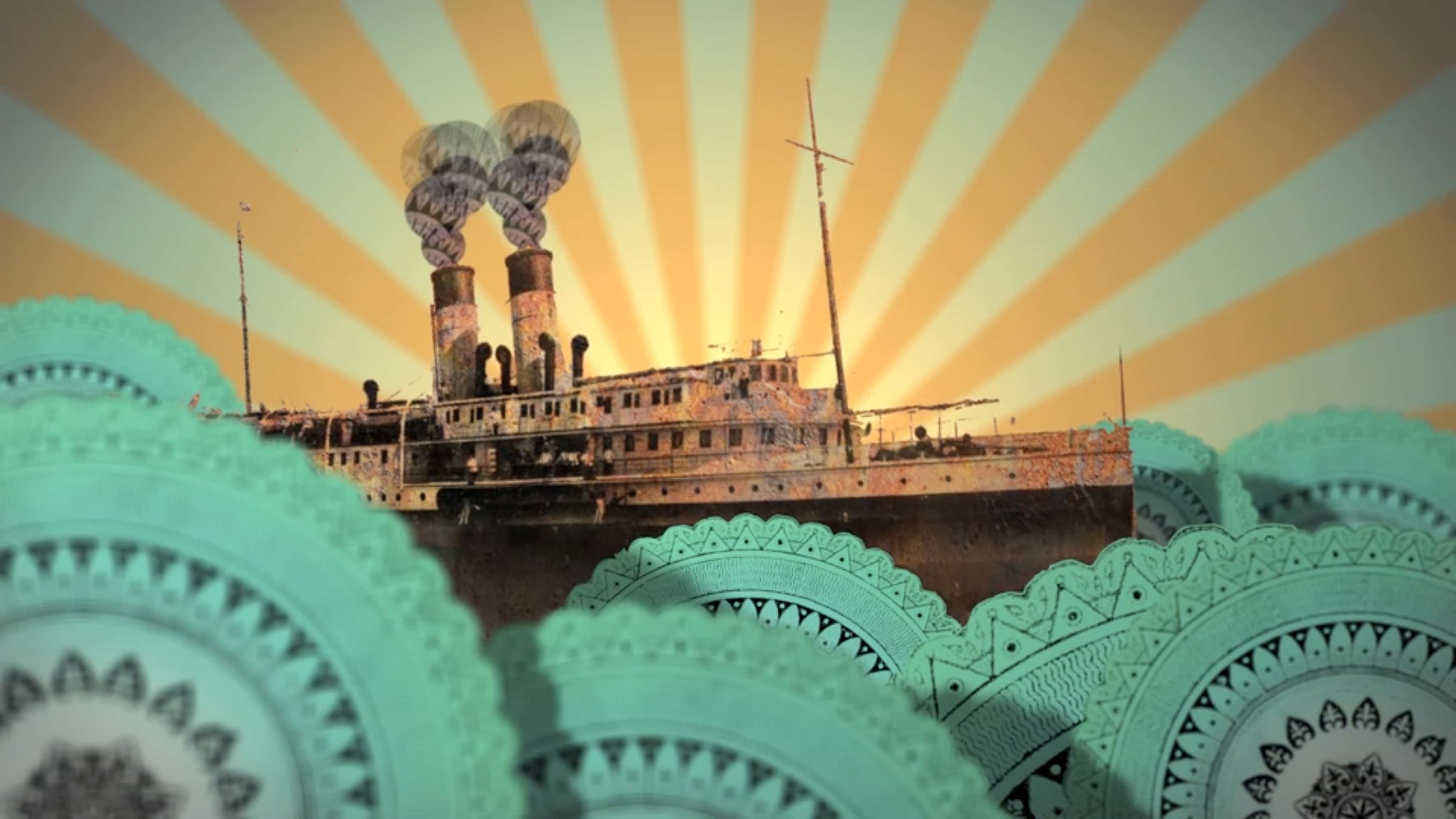 MESSAGE IN A BOTTLE
Message in a Bottle explores the romantic history of blindly throwing messages to sea, leaving it to the hands of fate to deliver them to their intended recipient. Visitors are invited into a maritime ship chandlery, where contemporary artists have created their own message for the ages, captured inside bottles and waiting to be unlocked by their new owners. A special animation by Beau Stanton will further the seafaring fantasy.
Beau Stanton
Message In A Bottle
Video still from video installation
Courtesy of Quattlebaum Foretich Gallery
Curated: Lori Zimmer
P03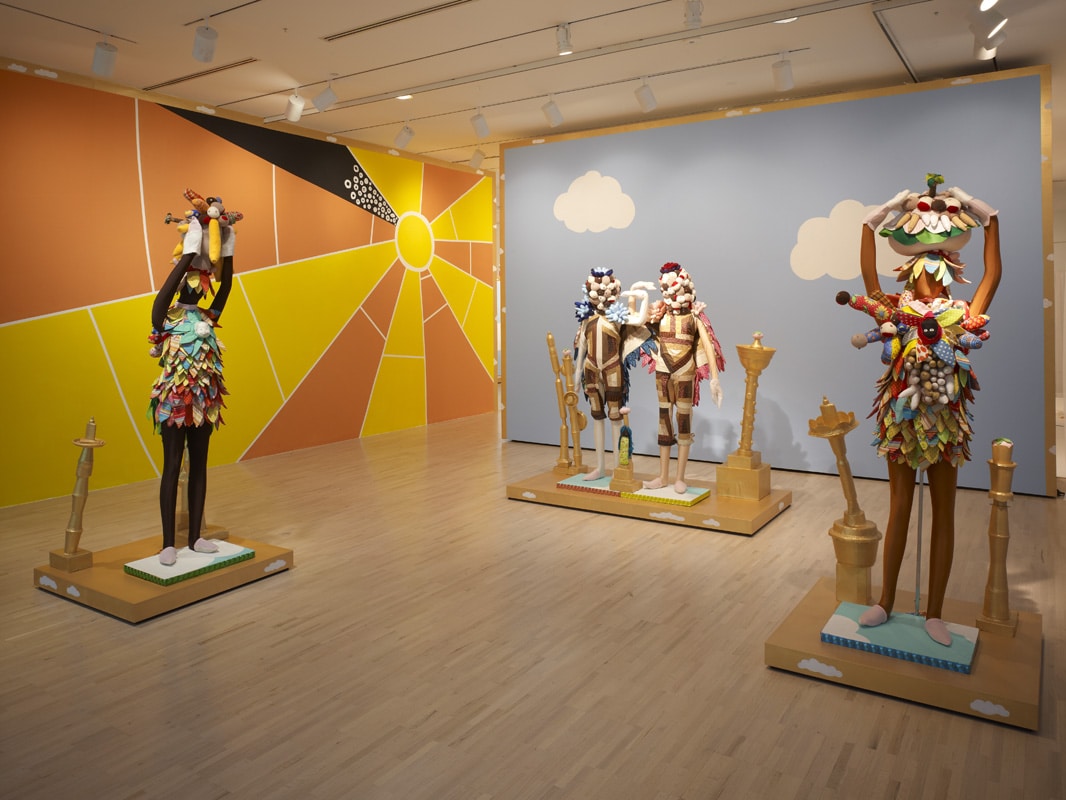 Saya Woolfalk
Winner of the DUMBO Arts Festival 2013 SCOPE Prize, Saya Woolfalk's mixed media installation, No Place, investigates configurations of biology, sociality, race, class, sexuality, and an environment designed as reflection on human life and its future. With its name derived from the English word, "topia," coined by Thomas More from the Greek "no" (ou) and "place" (topos), Saya Woolfalk's fictional "No Place" is composed of handmade, costumed mannequins from hybrid cultural origin, and a 30 minute video, The Ethnography of No Place, a collaboration with anthropologist and filmmaker Rachel Lears.
Saya Woolfalk
No Place
P07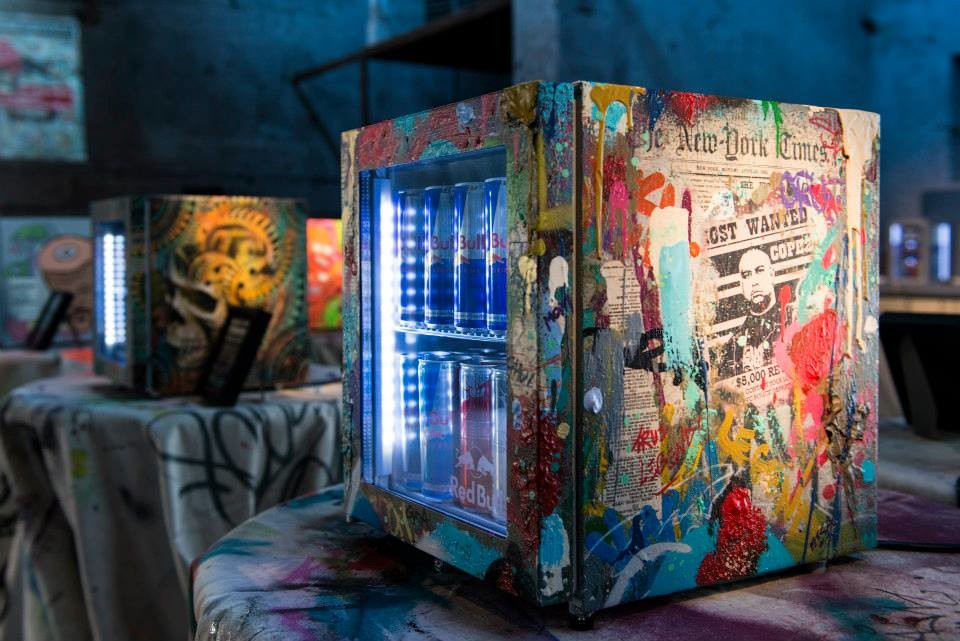 The Canvas Cooler Project
Red Bull Curates: The Canvas Cooler Project pairs 20 hand-picked artists with venue owners of the hottest local bars, lounges and restaurants across the U.S. and gives them a one-day challenge to transform a blank canvas wrapped cooler into an inspired work of art.  The finished pieces are exhibited in a one-night only public gallery showcase where attending art patrons and a panel of curatorial judges vote to send two artists from each city to SCOPE Miami Beach.  By combining social media, local industry, and a no-boundaries stance on art style, this forward-thinking art tour has set a new standard for elevating local artist communities onto a global platform.
Red Bull Curates: The Canvas Cooler Project 2013 launched in San Francisco in January, with additional exhibitions in Los Angeles, Chicago, Dallas, New York and Atlanta, honoring a diverse group of artists from mixed disciplines including fine art, street art, multimedia design and more.  Thirteen artists, representing their respective cities, are invited to show and sell a new collection of their original artwork developed exclusively for SCOPE Miami Beach. One of these artists will be the People's Choice, selected by the number of social media mentions they receive using their custom hashtag on Twitter.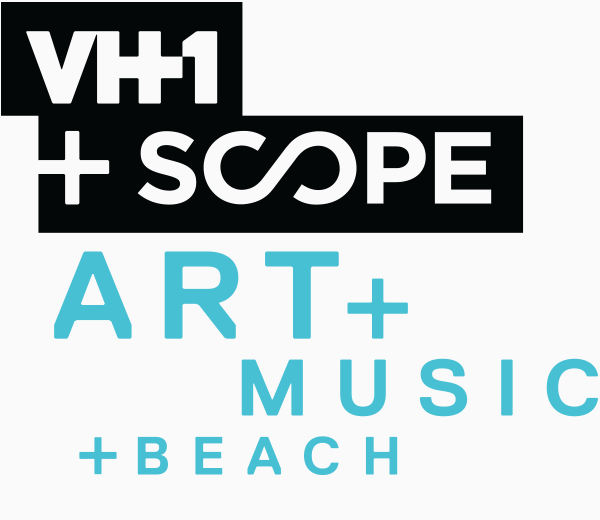 VH1
For the second year in a row, SCOPE, – the preeminent launching pad for emerging contemporary art,– continues its collaboration with VH1, which through its own You Oughta Know initiative has helped launch some of music's hottest artists. This year, SCOPE and VH1 are teaming up to host ART + MUSIC + BEACH to celebrate the convergence of the music and art worlds in a series of curatorial on-air, online and on-site collaborations at SCOPE's new location in the heart of South Beach, Miami. The VH1 Indoor Lounge within the SCOPE pavilion will expose SCOPE Miami Beach attendees to a series of activations designed to celebrate the crossover between art and music, and will be open to all for the duration of the event – December 3-8, 2013.
This year, VH1 and SCOPE have picked one visual artist, Hebru Brantley, and one musical artist, Kasseem "Swizz Beatz" Dean, to be featured in an on-air profile in which the two explore the symbiotic relationship between art, music and pop culture. It is set to air on VH1 from November 11 to December 1. Brantley is a Chicago native whose work employs a variety of surfaces and media including wood, spray paint, coffee and tea. Brantley draws influence from a variety of pop-culture influences including comic-book heroes, Japanese anime and the bold aesthetics of street-art pioneers Jean-Michel Basquiat, KAWS and Keith Haring. Kasseem "Swizz Beatz" Dean – an acclaimed hip hop/R&B producer and rapper who's worked with Jay Z, Beyonce, DMX, Drake and more – is an avid collector of Brantley's work.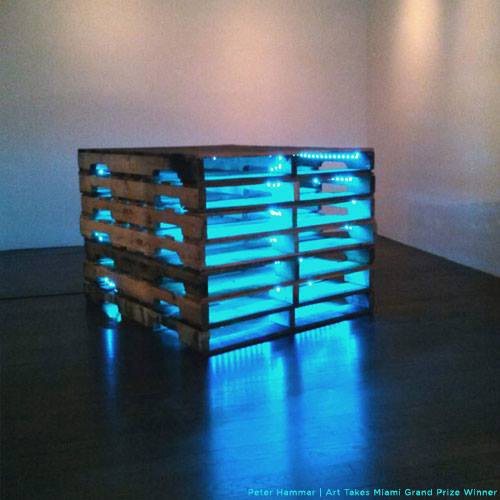 Art Takes Miami
See.Me is an online community of over 900,000 international members sharing, connecting and gaining support through art, photography, fashion, music and more. For this year's installment of the annual Art Takes Miami, more creatives than ever before will be exhibited in the SCOPE Miami Beach Group Show. In a special display, following the digital exhibition model used in their New York City event space, See.Me members are invited to gather supports from the masses and let the world decide who will be shown in an exclusive booth at SCOPE Miami Beach 2013.
See Me
Art Takes Miami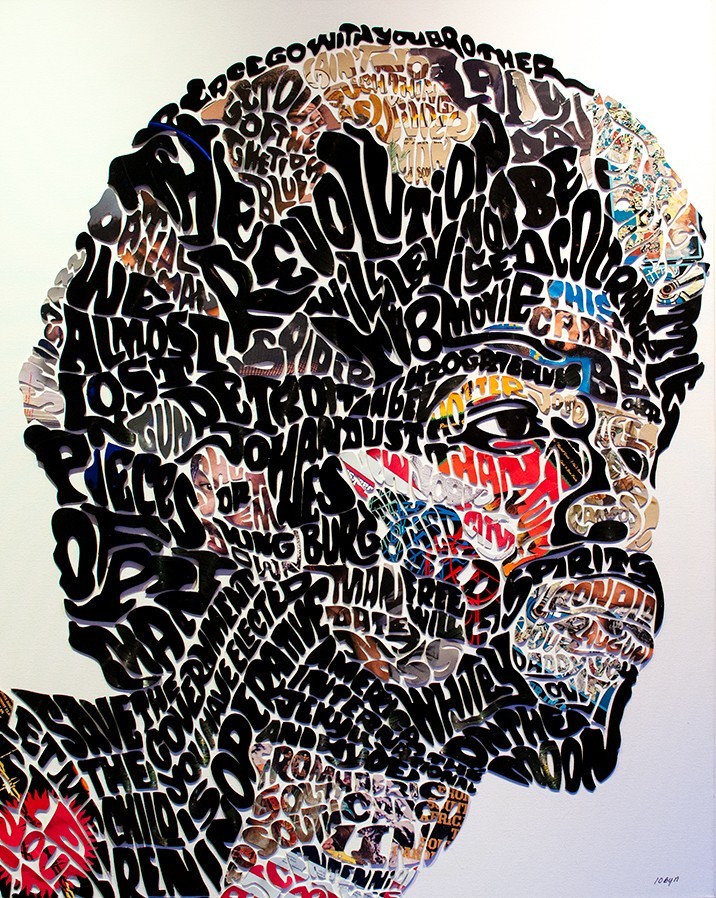 Artisan Series
In its fourth year, the BOMBAY SAPPHIRE® Artisan Series is a national search to find the next big name in visual arts and give them a national platform to expose their work.
BOMBAY SAPPHIRE® is cementing its mark in the art world with the support and partnership of Russell and Danny Simmons' Rush Philanthropic Arts Foundation as well as SCOPE Art Show. During the Artisan Series, a select group of artists are chosen from online submissions and local art gallery events to show their work at SCOPE Miami Beach.
Bombay Sapphire
Artisan Series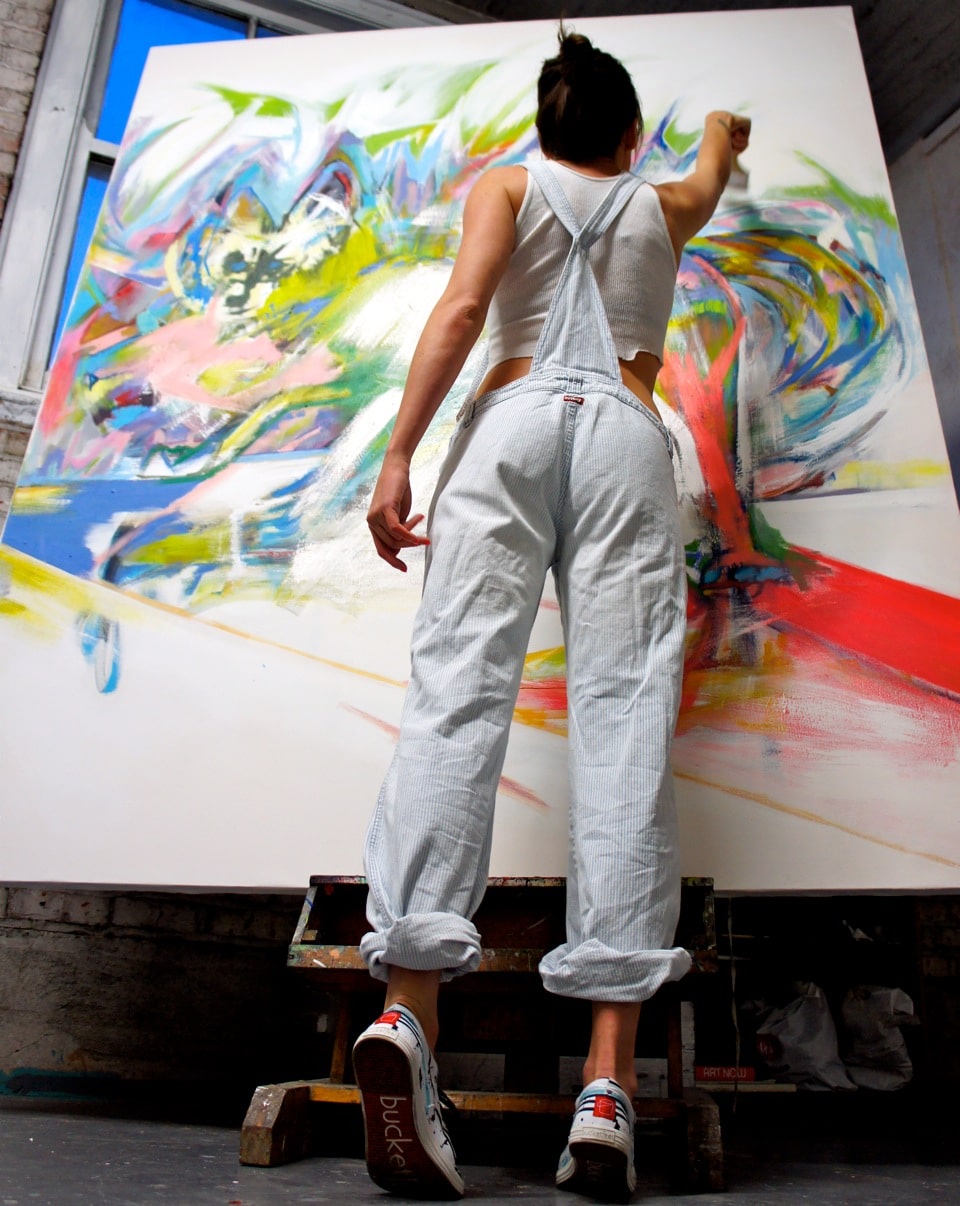 Made To Stand Out
This year, BucketFeet and SCOPE are teaming up for the inaugural #MadeToStandOut Challenge—wherein 50 outstanding artists will be selected to compete to become a BucketFeet shoe designer AND a SCOPE Miami 2014 featured artist. Prior to the SCOPE show, participating artists will receive a single blank shoe upon which they can unleash their creativity. Nothing is off limits, artists are encouraged to design anything from the radical and unexpected to the classic and effortlessly cool.
The finished pieces will be displayed at SCOPE New York 2014 in March and revealed to the public on social media, and a panel of judges will vote to decide the next BucketFeet artist. Combining art, fashion, and an unrelenting thirst for exploration, #MadeToStandOut celebrates the diversity of SCOPE artists' perspectives, allowing audiences to see what happens when each participant is confined to the same white canvas. The winning artist's design will receive a BucketFeet shoe contract and a special showcase at SCOPE Miami Beach 2014.
Designed by painters, graffiti writers, and illustrators from all over the world, BucketFeet shoes are walking works of art. The brand has collaborated with 65 emerging artists in 19 countries, effectively producing a fleet of sneakers as diverse as the artists who designed them. All artists receive royalties for each shoe sold and a global platform to showcase their work.
Co-founders Aaron Firestein and Raaja Nemani met while volunteering in the favelas of South America, and a love of travel has been a constant driver of the BucketFeet mission. Simply put, they want to spread art across the globe by creating artist-designed shoes that stand out wherever they go.